Beautiful homes don't just happen, M. R. Cockerham Paints them that way!

"One of Chester County's Oldest & Most Reliable Painting Contractors."

Need Immediate Service – CALL TODAY 610 696 6123
Interior Painting Appointments Booking Now!
Ready for a change of color in your living space. Change the color scheme in one room, one floor, or your entire home by depending on our complete painting services. From helping you find the perfect color, to painting preparation and finishing work, expect nothing but the best from our skilled craftsmen.
Complete interior painting services from top to bottom!
Painting can be a real hassle because it requires you to empty your room of furniture before beginning. As a courtesy to our customers, we always clean up, vacuum, and replace furniture when finished.
Rejuvenate your living space!
Do your prefer wallpaper? No problem! We're skilled at both wallpaper application and removal. We can also replace and repair your drywall and give you faux finishes, like wood or stone, that look just like the real thing!
Interior Painting Services:
Custom Painting & Trim Finishes
Wallpaper Application Removal & Installation
Texturizing Removal & Installation
Faux Finishes Removal & Installation
Drywall Repair & Replacement
Plaster, Plaster Repair, Finishing Plaster
Stucco Repair
Staining & Refinishing
Carpentry Services
Interior Building Cleaning
Furniture Arrangement
Post Job Clean-up
You are ONE STEP CLOSER to a fresh coat of paint!
Established in 1945
M.R. Cockerham Painting has been the business you can rely on  for the last 70 YEARS! Serving our neighbors and fellow businesses with professionalism and expertise that can not be matched. You can trust us to provide outstanding carpentry and trim work. Why? Well we've been in business since 1945 and that gives us years of experience. Our professionals deliver outstanding results with the highest level of care.
FREE ON-SITE Color Consultations
Do you look at your doors, windows, shutters, house, or garage and think it's time for a fresh coat of paint? Well, you are probably right! Now is the time. Don't wait until the paint is peeling or fading, as the job will only get harder and more costly in time.
Are you not sure what color to choose for your home or business? Our expert color consultants would be happy to help you choose the perfect interior or exterior colors, completely free of charge.
Your satisfaction is GUARANTEED!
We strive to provide the highest quality services at competitive prices. As part of our dedication to customer service, we guarantee our workmanship for the life of the manufacturer's warranty. We are fully licensed, bonded, and insured. Ask your neighbor or local business about our superior work!
Our
SERVICES:
• Interior Painting
• Exterior Painting
• Commercial Painting
• Decks / Staining
• Home Restoration
• Power Washing / Property Cleaning
• Commercial Snow Removal
CHESTER COUNTY'S FINEST PAINTERS SINCE 1945!
Exterior Painting Appointments Booking Now!
Make the exterior of your HOME or OFFICE beautiful!
Be the envy of the neighborhood with our expert services. Whether you choose the same color or something new and daring, your property will stand out and look brand new.
Our FULLY INSURED team of professional color consultants can provide you with specific examples so you can rest assured that your choice will be the right one.
Exterior Painting Services:
Siding Removal & Installation
Trim Removal & Installation
Residential Properties
Commercial Properties
Power washing and Prep Cleaning before applications
Decks Removal & Installation
Garages Repair & Paint
Fences Removal & Installation
Stucco Repair, Removal & Installation
Post Job Clean-up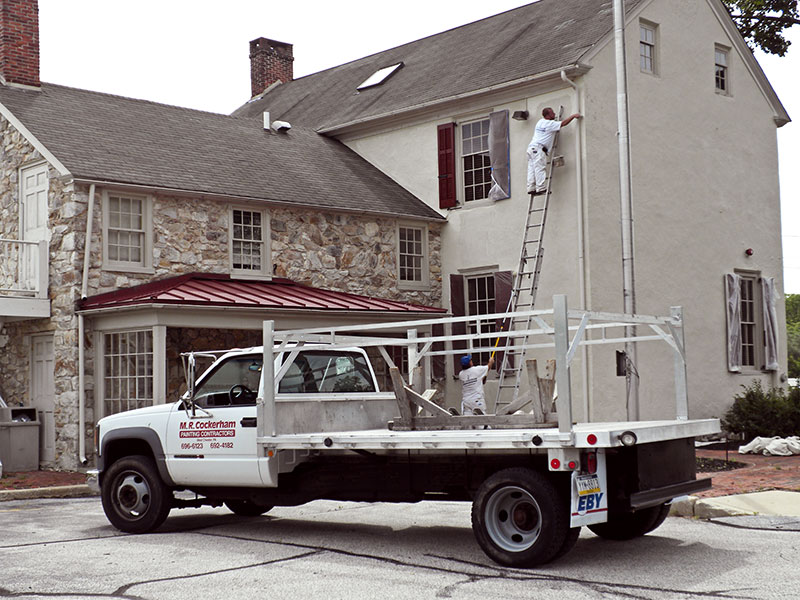 M.R. Cockerham has taken our vision to the next level. They are efficient, creative, and friendly. We couldn't be happier with the work they have produced.

We had M.R. Cockerham come out for our home consultation. Talking with the contractor in the first 15 minutes, we knew we made the right choice. The brilliant people there are the best at what they do and their work clearly speaks for itself.

We are fortunate enough to be one of M.R. Cockerham's first handful of clients. I can proudly say that I receive just as much attention and communication as I did on day one.